Digitale productontwikkeling voor de mode-industrie / Digital productdevelopment for the garment industry
Opleidingsinformatie
Workshop: 8-part course on Monday afternoons 12.15-17.00 uur, starting March, 2th 2020
Ben je benieuwd of digitale productontwikkeling al haalbaar is en of het daadwerkelijk tijdsbesparing oplevert? Wil je eens zien hoe het precies werkt om artikelen op het scherm te ontwikkelen en patroon- en constructietechnieken digitaal toe te passen? Schrijf je dan in voor deze training van Modint Academy die in samenwerking met docenten van de HVA en experts van Alvanon wordt georganiseerd.
Do you want to learn how to develop 3D garment simulations which will make digital product development possible? And experience how this can lead to a more sustainable and cost efficient process? The possibilities that this development can offer are very interesting. During this course you will learn the process of developing garments on your computer screen. By applying patternmaking and construction techniques digitally, you will realise a true to life visualisation.
Ready? Subscribe to the 8 part Modint Academy course, in cooperation with professional lecturers of Hogeschool van Amsterdam (HvA) and experts van Alvanon.
Wat gaan we doen?
Je leert over lichaamsmaten, body scans en het kiezen van een 'doorpas Avatar' op maat die bij je doelgroep past. Je ontwikkelt digitaal kledingmodellen die je doorpast op de Avatar en realistisch leert simuleren in 3D.
Omdat dit snel inzicht geeft in stijl en pasvorm wordt het al door veel bedrijven toegepast en verwacht wordt dat het gebruik hiervan snel zal toenemen. De tijdbesparing die door een verkort sampling proces en minder fysieke doorpassen mogelijk wordt, verlicht de druk op je team, de leverancier en het milieu. Dit is je kans om in relatief korte tijd inzicht te krijgen in deze werkmethode en het direct in de praktijk uit te proberen.
You will learn how to use the software, develop garment models, construction, add materials and details which will lead to realistic visualisation in 3D. Also we will dive in to body dimensions, body scanning and choosing a custom fit 'Avatar' which corresponds with your target group. Because this method gives quick insight in styling and fit, many companies apply this already in their product development process. We anticipate more and more companies will implement this in the future. The time efficiency of this shorter sampling process and less physical fit sessions, will take the pressure of your team, supplier and the environment. This is your chance to achieve quick start for this method and apply it practically.
Waar:
Bij Modint in Zeist en bij de Alvonon studio
Where:
Modint in Zeist and at the Alvanon Fitstudio.

Voor wie:
Voor modeprofessionals die meer willen weten over het gebruik van 3D virtual prototyping in de mode industrie en hier zelf mee aan de slag willen gaan. Om vervolgens door meer inzicht in de werkwijze te kunnen afwegen of het al toepasbaar is in eigen bedrijf en op welke wijze dit kan worden ingezet.
We raden aan om met 2 personen per bedrijf deel te nemen, dit is van belang bij het implementeren van deze nieuwe methode van werken. Bijvoorbeeld een designer en technisch designer of een designer en patronenmaker en/of manager.
For whom:
For garment professionals that want to experience the usage of 3D virtual prototyping in the industry and its application. After gaining this insight, you will be able to assess if this is applicable for your company and how this process can be implemented. We advise to participate with two persons of your company, which is important to for implementation and your business processes. For example, a designer and technical designer, a patternmaker and designer or managers.
Voertaal:
Nederlandstalig en/of Engelstalig (afhankelijk van deelnemers)
Aantal deelnemers:
Maximaal 12, Minimaal 8
Lesmateriaal:
Wordt per les aangeboden en is digitaal beschikbaar. De oefeningen/opdrachten worden on the job gerealiseerd en in de daarop volgende les weer besproken.
De deelnemers nemen tech-packs, patronen/stoffen/fournituren mee vanuit hun bedrijf om zoveel mogelijk aan te kunnen sluiten bij de werkwijze van het betreffende bedrijf.
Learning material:
Will be offered per session and is available digitally. Exercises will be done on the job and evaluated the next lesson.
Participants will bring their company's tech-packs, patterns, fabrics and trims, so the exercises will be in line with your process. During the lessons we will work with general materials.
Software CLO3d:
De deelnemers downloaden een proefversie op hun laptop (voor OSX en Windows beschikbaar)
Software CLO3d:
Participants will download a free trial version on their laptop (available for OSX and Windows available)
Program:
02/03/20 – Week 1: Introduction Digital Product Development
Introduction: Modint, Miriam Geelhoed
Lecture: Ineke Siersema and Ton Wiedenhoff (Alvanon): State of Art in Virtual Fashion, practical examples of application in the industry.
Introduction CLO3D: 2D pattern construction and 3D simulation. How to make a T-shirt.
Course: Digital Product development, introduction CLO3D software, learning by doing.
On the job: Finish the exercise. Bring your company's sizing information and model.
09/03/20 – Week 2:
Workshop: Pattern and construction techniques: Other 2D CAD software – Importing and exporting patterns. From blouse to dress. Adjusting the neckline, making partition seams, closures and finishing 3D simulation.
On the job: Finish the exercise. Finish the assignment and make one variation in shape and material.
16/03/20 – Week 3:
Workshop: True to life 3D simulation: How to realise digital material, draping, textures, prints and artwork.
On the job: Finish the exercise. Use your company's artwork.
23/03/20 – Week 4:
Lecture: Avatars: Bodyscan and Sizing
Workshop: Avatar: Body dimensions lichaamsmaten, proportions and pose, size range, consistent fit & sizing
On the job: Implement sizing info and artwork (digital). Bring your own artwork.
30/03/20 – Week 5:
Workshop: Button closure and collar: Button and buttonhole, cuff and finishing. How to combine a dress and pants in one outfit.
On the job: Finish the exercise and combine the dress and panys in 3D simulation
06/04/20 – Week 6:
Workshop: Generating the technical information in the tech pack and making an avatar pose for the photoshoot. Optimising the quality of the garments.
On the job: Finish the outfit and pose for the photoshoot.
11/05/20--Week 7:
Workshop: Photoshoot in the CLO studio, rendering garments and create your presentation for week 8
18/05/20 – Week 8:
Workshop: Presenting your results in the group
Discussion: During the last hour of this afternoon, Ineke Siersema and Miriam Geelhoed will discuss the implementation of digital product development, the conditions and possibilities. We will talk about the organisation and process of this development for design, production and sales departments and develop an implementation plan.
On the job: Developing an implementation plan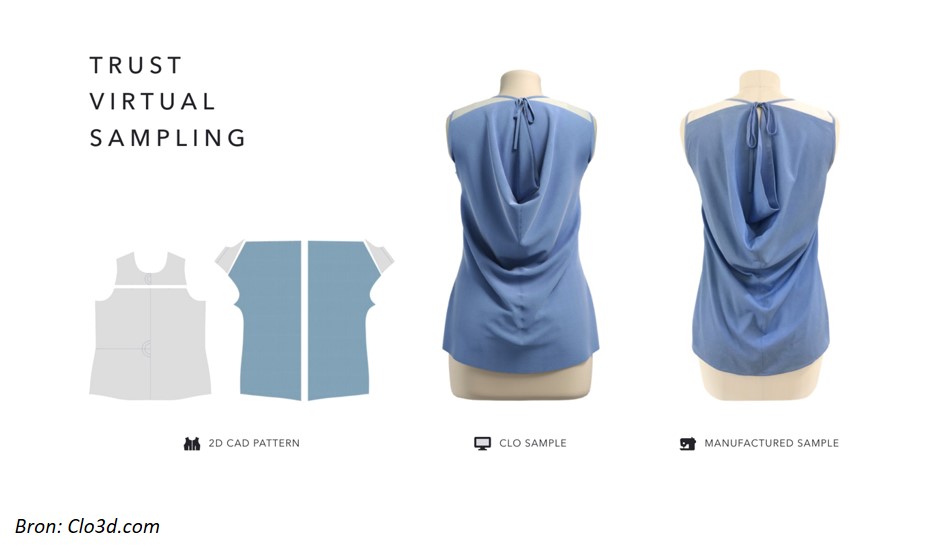 Kosten deelname p.p. (excl. BTW):
Modint Sizing Members: € 795,-
Modint leden: € 895,-
Niet-Modint leden: € 995,-
Costs p.p. (excl. VAT)
Modint Sizing Members: € 795,-
Modint Members: € 895,-
Non-Modint Members: € 995,-
Prices are including lunch
Prices are excluding the costs the software license, see: https://www.clo3d.com/pricing
Opleidingskalender
| datum | aanmelden | prijs | locatie |
| --- | --- | --- | --- |
In de bovenstaande beschrijving tref je informatie aan over de datum(s) en locatie(s) van deze opleiding. Het kan ook zijn dat we bezig zijn een (nieuwe) datum/locatie te vinden. Neem contact met ons op voor meer informatie!
Maatwerk
Nog niet (precies) gevonden wat je zocht? Schikt de datum of locatie niet helemaal? Neem svp contact met ons op; grote kans dat we iets voor je kunnen betekenen!